Description
The DFF-3D is an innovative tool for efficient fish location and seabed profile surveying, utilizing new multi beam technology. Highly detailed images are derived from the combination of an advanced signal processing system and an amazingly compact multi beam transducer.
Visibly see the landscape and fish schools at great depths in amazing detail
Turn your NavNet TZtouch series MFD into a multi beam sonar that can see 120-degrees port to starboard, allowing you to see the depth and direction fish schools ar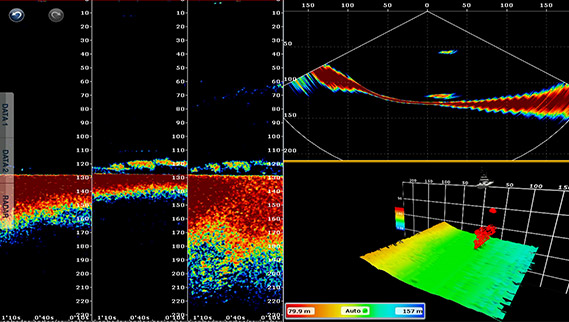 e moving, while displaying the seabed condition in real time.
Sidebar detection range is up to 200 m (over 650 feet)* in a 120-degree swath port and starboard direction.
Deep water, main beam penetration directly under the boat is approx. 300 m (over 980 feet)*.
*Depending on bottom, water and installation conditions.
*Image: Depth 130m
The compact and fully featured transducer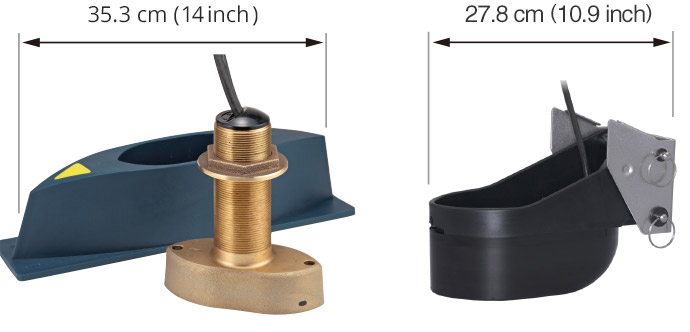 The compact transducer allows easy installation.
The built-in motion sensor (standard supply) stabilizes the display to give clear and stable images even under rough sea conditions.
*Image: Thru-hull Transducer B54 (SS54) and Transom mount Transducer TM54
Customize the display according to your needs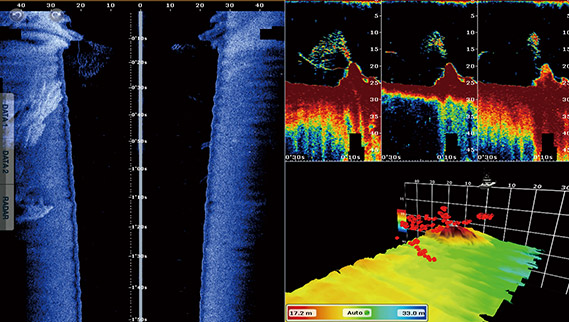 Depending on the situation and preference, a combination of screen modes can be displayed.
TZ Professional v3 with DFF-3D
When paired with TZ (TIMEZERO) Professional software and the optional PBG module, the DFF-3D can generate up to 50 depth points per second to quickly create a highly accurate Personal Bathymetric Generated (PBG) database. The following screenshots show how the PBG database is dynamically created with the DFF-3D, in comparison with conventional Fish Finder models.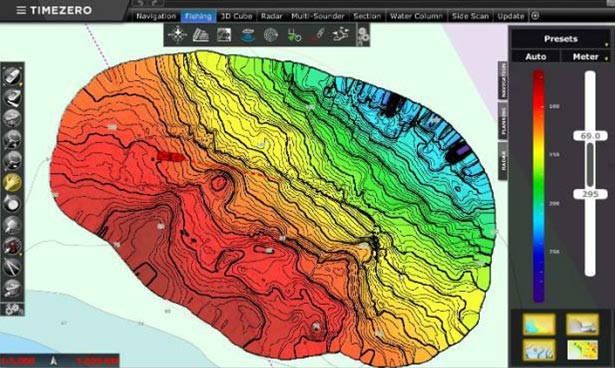 The wide coverage of the DFF-3D beams helps draw the PBG map much faster (50 points per second) than any conventional Fish Finder.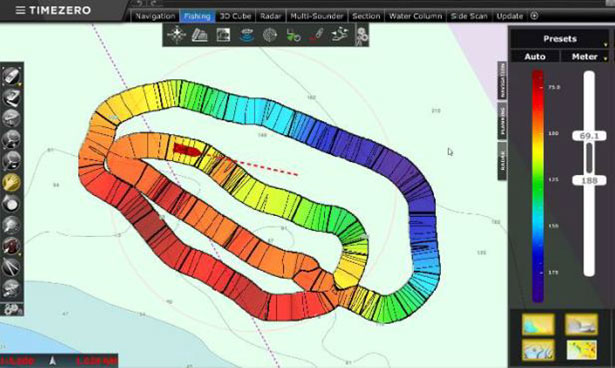 With conventional Fish Finders, the recorded area in the PBG database is limited to 1 point per second due to narrower scanning beams.
Note:
SATELLITE COMPASS required as the primary source of position, heading, and motion (roll/pitch/heave) data.
The DFF-3D can detect and generate a PBG database down to 200 m. When the depth is deeper than 200 m, the PBG source can be switched from the DFF-3D (multi-beam) to a Fish Finder (single beam).
Specifications:
TX Frequency – 165kHz;
Output Power – 800W;
Minimum Range – 3m;
Basic Range – 5-1200m;
Detection Range:

200m* (Side Beam Best Performance);
300m* (Main Beam Directly Under Boat) *Depending on bottom, water and installation.

Beam Angle for Triple Beam Sounder – 20°-50° from right under;
Display Mode – Triple/Single Beam Sounder, Side Scan, Cross Section, 3D Sounder History;
Waterproofing – IP55;
Power Supply – 12-24 VDC, 1.4-0.7 A.
Compatible with the below Transducers:
B54 (Bronze Thru-Hull);
SS54 (Stainless Steel Thru-Hull); and
TM54 (Transom Mount).
You can install this yourself with the Installation Materials included, although why not contact us at QME to install it for you correctly, the first time.